J. Meejin Yoon, working with her colleagues and students at MIT, has designed a monument to Officer Sean Collier, a victim of the Boston marathon bombers, in massive granite blocks with sweeping curves.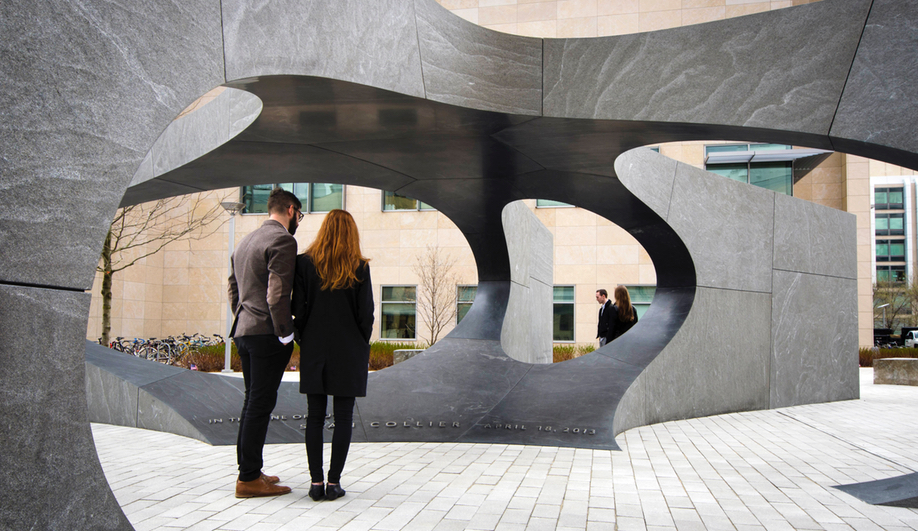 As head of MIT's architecture department, J. Meejin Yoon – one of the founding partners of Höweler + Yoon Architecture – was touched by the events of April, 2013, when two bombs exploded during the Boston marathon. A manhunt stretched on for days, with the suspects taking the life of MIT police officer Sean Collier during an armed confrontation. Now, on the edge of MIT's campus, in Cambridge, Massachusetts, just steps from the site of the murder, a thoughtful memorial Yoon designed pays tribute to Collier's memory.
The monument's five walls radiate from a central cavity large enough for people to enter. "It needed to convey the feeling of absence and loss," says Yoon, "so I designed the memorial as a five-walled figure with a void for reflection at its center." Although the form is open to visitors, the walls speak of enormous weight: the structure is composed of 32 massive blocks of solid Virginia granite weighing a total of 45 metric tonnes.
Surprisingly for a structure of such heft, there is no framework to hold the blocks in place, and no adhesives or fasteners between them. Only the compression from stone to stone, transferring weight from the centre to the radiating arms, holds the edifice together. "Each stone is necessary to transfer loads and create equilibrium," Yoon explains. "The memorial represents the community coming together where strength comes from unity."
The technical challenges inherent in correctly shifting so much structural weight were enormous. For help, Yoon turned to Knippers Helbig of Stuttgart, as well as others at MIT – specifically professor and masonry vaulting expert John Ochsendorf leading a group of structural engineering students. "The structure is completely unique and required an array of engineering approaches, ranging from hand calculations, physical models, and computational software," says Yoon.
The stones' fabrication process alone was a complex affair. A single-axis robotic block saw cut the quarried blocks to size before the milling process was completed by a multi-axis KUKA 500 robot. A vault of this type demands a perfect fit, as any slippage could compromise the distribution of weight, so the team ensured throughout that the milling process was completed to a tolerance of less than half a millimetre.
Professor Ochsendorf's students helped to calculate the load deflections, and were on hand during installation to monitor the many steps required to transfer the weight from the temporary scaffolding to the permanent arches. Thirty people attended the eight-hour process, with the project's overseers commending that "watching 100,000 pounds of stone not move was extremely exciting."
Though precarious to assemble, the final result is a megalithically sturdy form vaguely evocative of an open palm. "We chose to honour Sean and his service with an open hand over a closed fist," Yoon says, "creating a space of remembrance that is open yet intimate, heavy yet light, respectful yet adventurous, singular yet collective, and most of all truly special and unique."
Last week, Dzhokhar Tsarnaev received the death penalty for his role in the bombing murders; he'll go down in history for his heinous crime, along with every mass murderer before him. The MIT memorial ensures that the memory of the victims, including Officer Sean Collier, will be honoured for years to come.