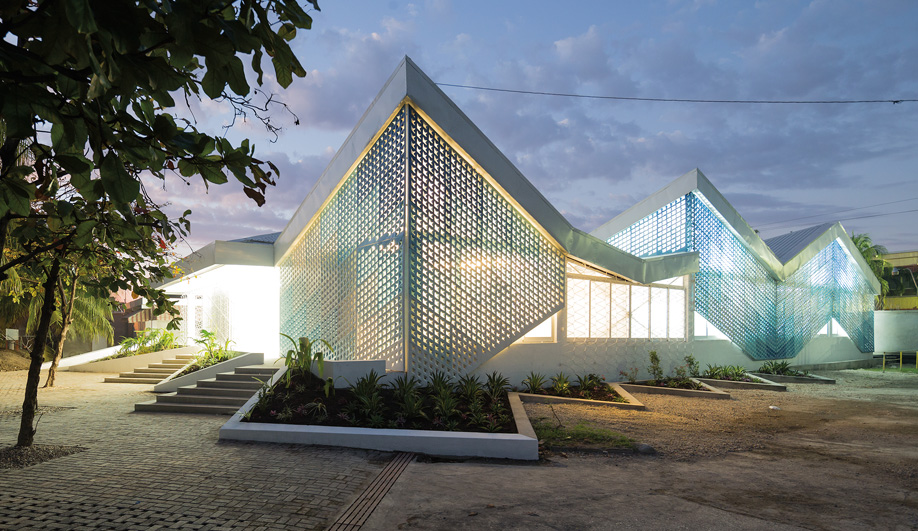 This Cholera Treatment Centre in Port-au-Prince, by MASS Design Group, shows how innovative design can literally save lives.
In the Cité de Dieu, a slum on the outskirts of Port-au-Prince, tuberculosis is a long-standing problem stemming from a lack of public sanitation. MASS Design Group of Boston was already working with the Haitian disease-fighting organization GHESKIO on a hospital for tuberculosis patients when the island was struck by a magnitude 7.0 earthquake in 2010. The catastrophe not only exacer­bated the spread of TB; it introduced cholera. Shortly afterward, MASS was commissioned to design a centre for the treatment of cholera as well.
Both projects, completed on non-profit budgets, use innovative typologies rather than advanced technology to contain the spread of disease. As project manager and architect Adam Saltzman points out, TB is transmitted by air, so ventilation was a central concern. "In an open-air environment, particularly when it's exposed to sunlight, there is little chance of transmission," he explains. So the patient rooms have windows on two sides, with an exhaust fan to blow away microbes.
A similar approach was used for the GHESKIO Cholera Treatment Centre (above), but with a focus on water. "Cholera has never been endemic to Haiti, so people didn't understand how to deal with it," Saltzman explains. Because cholera is a water-borne disease, the 100-patient building needs to be cleaned regularly, so the floors are pitched toward drains, and all the water used throughout the building passes through a treatment system to ensure that it's decontaminated before being returned to the local environment.
Although both clinics were built with function in mind, they are strikingly beautiful. The cholera centre was designed as a pavilion, with a vibrantly coloured perforated facade. "In Haiti, there's a tradition of metalcraft using recycled oil drums," Saltzman says. "We collaborated with 20 workers to fabricate the metal screens." The apertures vary in degree, to adjust for ideal daylighting and venti­lation, and to ensure privacy. The result gives patients in dire situations some of the most essential elements for getting well, including comfort, cleanliness and respect.