In Shenzhen, MOCAPE — the latest masterwork from Viennese architecture firm Coop Himmelb(l)au — hides an unusual secret. Firm founder Wolf D. Prix tells Azure about the Cloud.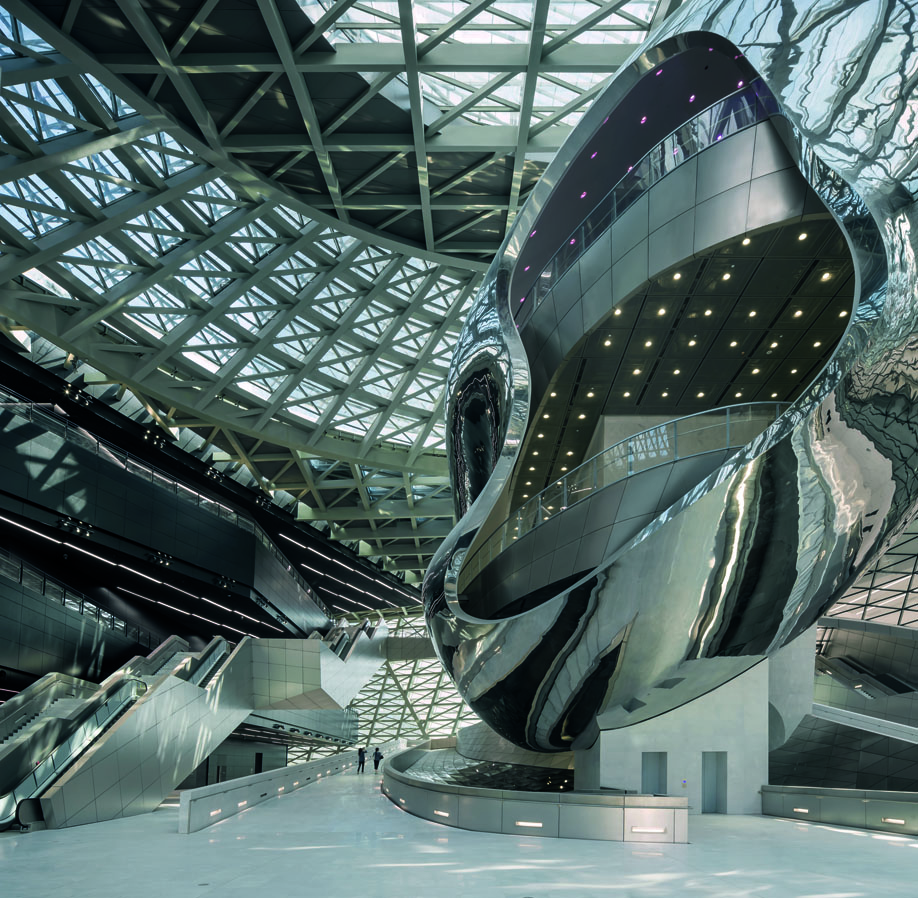 The latest masterwork from Viennese architecture firm Coop Himmelb(l)au hides an unusual secret inside its imposing geometrical walls. The Museum of Contemporary Art & Planning, or MOCAPE — in the works for nine years before opening earlier this fall — is in Shenzhen's burgeoning Futian Cultural District. From the beginning, the project presented Coop Himmelb(l)au founder Wolf D. Prix with an unusual problem: it's actually two museums in one, the Museum of Contemporary Art and the Museum of Planning Exhibition — two separate institutions united in a single 80,000-square-metre structure.
From the outside, the building profile hints at this split personality. The MOCA is housed in a block-like monolith to the south, while Planning Exhibition inhabits a twisted stack of smaller volumes on the north. A single facade unites the two masses together, and covers a massive plaza that separates the two institutions like a river dividing two islands. This plaza's programming — which comprises a shared lobby, auditorium and exhibition spaces — knits the two halves back together. Curving sections of Coop Himmelb(l)au's trademark tessellating triangular windows break up the steel-paneled facade, flooding the plaza with daylight and offering superior views of downtown Shenzhen.

It's in this plaza that you'll find MOCAPE's most striking feature: the Cloud, a sculpture that rises nearly 30 metres above the plaza floor. With undulating, polished silver walls that seem to defy any practical explanation, it's the centre of attention. It's "the first impression of a building you can never repeat!" Prix told Azure, explaining why he chose to put such a prominent feature at the centre of the project "When they enter the building, visitors will immediately see the Cloud." From its position here, it serves as a wayfinding point that can be easily seen and accessed from almost anywhere in the building.
The Cloud's undulating form was inspired by Constantin Brâncuși's Sleeping Muse, as well as Deimos, the planet Mars' irregularly shaped outer moon — but it evolved over the years of the project's development. "When we combined these shapes, the first model looked like a dolphin," Prix explains. "However, we changed the shape, because we wanted a cloud. The communication cloud is more connected to the concept of the museum."
The Cloud's stainless steel panels, mounted on the structure's steel frame, are polished to a mirror finish. Unsurprisingly, this was not an off-the-shelf item; Prix explains, "For the exterior cladding, extensive studies were employed to produce, mount and finish the skin using robots." The result literally reflects the two sides of the structure joined under one roof.
To access the Cloud, visitors can climb a winding staircase that leads up from the lower level, or follow a wishbone-shaped bridge that funnels guests from both exhibition spaces into the Cloud's backside. Inside, its organic form contains two levels of functional space, both of which look out onto the plaza through a single multi-storey aperture. The Cloud is no mere ornament: its approximately 1,000 square metres of programmed space include a cafe, book store and the museum store, as well as flexible space for hosting events. "It's shiny skin reflects the spirit of the Museum," Prix says. "The movement of visitors, the lights, the colours — it's a mirror of public space inside a multi-functional building."
An edited version of this story appears on Azure magazine