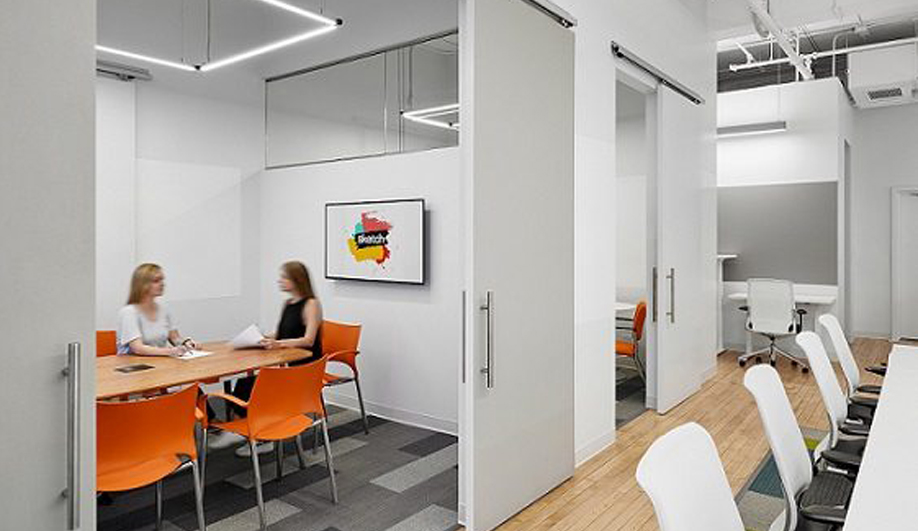 It's natural for employers to promote health and wellness — after all, healthy workers are more productive. But how can you quantify health and wellness in a workplace, and what can be done to maximize it?
We spoke with Janine Grossmann, corporate interiors leader at Perkins + Will Canada, to find out more.
Find the Right Metrics
When it comes to wellness, Grossmann says, "there are a couple of lenses that we look through. Some of our clients perceive health and wellness as an anecdotal conversation that ties into culture." But for a more complete picture of how a workspace contributes to well-being, Grossmann advises turning to a certification program, such as FitWel or Well Building Certification.
FitWel, which was developed over five years by the Centers for Disease Control and Prevention and the American General Services Administration, "looks at a number of different health impact categories," Grossmann explains. The program has identified seven areas where employers can contribute to a healthier lifestyle in their employees, both in and out of the office, by promoting community health, physical activity, better food options, and support for vulnerable populations, among others.
Understand the Impact of Investment
How do you determine if a program like FitWel is worth the effort? You can start by understanding the impact an investment into health and wellness can make.
"When we meet with our clients," Grossmann says, "we use what we call a 300 / 30 / 3 rule. On average, companies spend about $3 a square foot on utilities, $30 on rent, and $300 on personnel. So even a small gain in productivity as a result of health and wellness measures has a large impact on costs, and leads directly to a return on investment."
In fact, earlier this year, CoreNet Global published research showing that when a company focuses on employee health, it leads to an average 19% decrease in absenteeism, 25% increase in retention, and 47% boost in employee engagement. "The numbers are pretty powerful," Grossmann says.
Once you've determined to make workplace health and wellness a priority, there are many ways — large and small — to make improvements. And while some require major changes, others are so simple you can initiate them immediately.
Design for Well-Being
Workplace health measures fall into two groups: those affecting the physical environment, and those affecting office culture. Taken broadly, these are changes that an architect or designer can help with, and those that employers can take on themselves — but, given the many ways environment influences culture, there's plenty of overlap.
Changes to an office environment begin at the planning stage. Layout is crucial — studies show that access to daylight and views to the outside world play a big role in mental health.
You can also send a clear message about your corporate values by adding spaces expressly devoted to health and fitness, like a lactation room, meditation room, or areas devoted solely to exercise. In fact, you can encourage people to be more active by centrally locating stairwells and making them highly visible. "As designers, we can actively engage stairwells, as opposed to elevators, and even placing copy areas at greater distances can start to influence people's movement."
If you're planning a complete renovation, consider working with a designer who understands how materials affect air quality. "There are a number of building materials that can be carcinogenic, or can aggravate allergies " says Grossmann. "Vinyl, PVC – there are pieces that off-gas. But there are others that can improve air quality." Perkins + Will — an industry leader in this department — has spent years developing a precautionary list of materials that impact air quality, and believes so strongly in the cause, they've published their list so anyone can refer to it.
Good design extends to the furnishings as well. While the standing desk trend may have peaked, there are still those who swear by them — and adjustable chairs are a necessity, not a luxury. Neck and back strain, one of the leading causes of employee injury, can be mitigated by choosing workstations that can be adjusted for better ergonomics. If new desks aren't in the budget, a few potted plants can work wonders, dramatically improving both the look of an office and its air quality.
Lead the Way
Even without hiring a professional designer, there are things employers can change to promote a healthier culture. Food is an obvious place to start. If you have snacks in your office, are there healthful options available? If you have a cafeteria or offer catered meals, are nutritious options priced to encourage healthy choices? Even something as simple as placing drinking water in a visible location can make a difference.
Promoting a healthy culture, however, also has to include a physical component. In-house fitness classes or daily speed-walking groups, for example, are easy ways to encourage activity, improve fitness, and build team dynamics. Depending on your location, a bike-share program can be another a easy, practical idea that encourages exercise.
In fact, location is one of the biggest factors to impact an office's culture. If your company is looking to relocate, ask yourself: is this neighbourhood walkable? Does it encourage people to cycle, or carpool to work? Are there healthy food options in the area? Are there smoke-free outdoor spaces nearby, especially parks, where people can take a rejuvenating walk?
"As designers, we've got to start asking some questions," Grossmann says. "And we need to start that engagement very early — to find out what an employer's understanding of health and fitness is, how far they're willing to stretch themselves, and the ways we can layer on a health and fitness strategy."
Published by Workopolis
Photo courtesy Perkins + Will