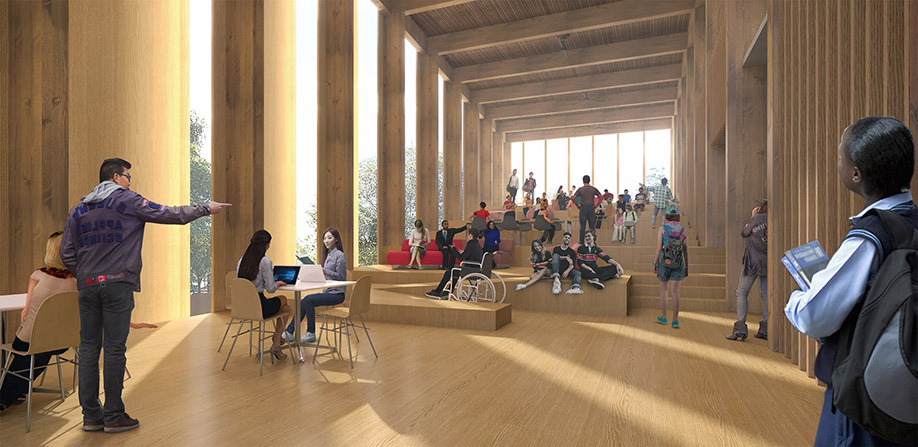 Many carriers are overcautious when it comes to mass timber construction, leaving insureds with a case of sticker shock. But as the sustainable building material's popularity grows, some insurers are leading the way with better guidelines and more tailored coverage.
Any number of complications can arise when a major construction project goes to market. If you're lucky, you'll only encounter one or two of them.
When Bryan McGann, manager of insurance and risk at Queen's University, sought coverage for a new student hub for its campus in Kingston, Ontario, he seemingly encountered all of them.
For one thing, it was an expensive project — an architectural showpiece combining double-height curtain walls, a sloping cantilevered floorplate, limestone masonry and an interior with soaring ceilings. For another, it included connections to and renovations of historic buildings in a densely populated and highly trafficked area of campus. Then there was the fact that it was hit with pandemic-induced supply chain issues that inflated total cost by about half.
This wasn't McGann's first rodeo; he knew how to manage each of these risks and keep the project insurable. Even so, he was surprised that, despite all these hurdles, the cost to insure was ultimately determined by one seemingly insignificant detail: the inclusion of mass timber.
"To put it into perspective, the overall value of heavy mass timber in this project was around $1.6 million of an $80 million to $90 million project," McGann said.
Even so, this "very small percentage of the overall project really dictated the entire experience of the rate, the capacity available in the market and the number of insurers that were willing to even come to the table," he said. "The overall underwriting process was elongated by at least a few months, as the information-gathering part of the underwriting process was very, very thorough."